We'll be LIVE for an interview on Hometown Heroes Delaware Valley - stream the show live at 7 PM via https://www.delawarepublic.org or on your radio - the signal on 91.1 WDDE from our broadcast tower in Felton, Delaware, covers Kent County and extends into portions of New Castle and Sussex counties.  You'll be able to listen to the recording afterwards as well!
December 2019 - check out our two most recent releases, recorded at Hopetown Sound during the Summer of 2019 and now available for streaming on our website.
Memorial Day Weekend - 2019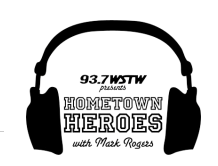 April 2019 - Back in the Studio!
We are excited to be back at Hopetown Sound in Doylestown, PA to record two more of our original songs.  Stay tuned for their release!
February 2019 - WHYY Feature